<![if !vml]>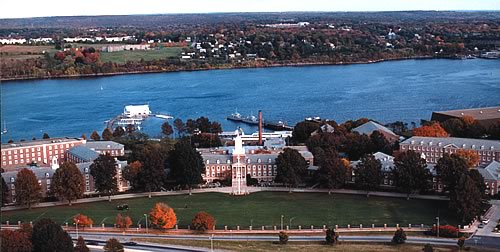 <![endif]>
Sitrep 1
Classmates, I no longer use Thorne@atlanticbb.net.
My working emails are now Quigsthornecga@gmail.com (primary) and Grandmathorne@icloud.com
Heads up. 50th Class reunion weekend is Thursday 3 Oct thru Sunday 6 Oct 2019 at the Mystic Marriott where the Class stayed last time. I have to determine approximately how many rooms the Class will need and reserve them soon. Normally, the number of rooms required for a 50th class reunion increases from the last reunion. Historically, some graduates have even brought their kids and grandkids to their 50th reunion!
Accordingly, I would like Classmates to tell me if they tentatively plan on attending and how many rooms they may need. Please let me know by Sunday 2 July. This info does not commit you, just helps me get a better estimate on the room requirements. Thank You!
Have a great summer!
Regards, Bob Thorne
Article on George Washington and the Coast Guard written by Bob Pokress. Article appeared in the August/September 2018 Alumni Bulletin.
UPDATE 2019-01-06
Class of '69:
Bob Thorne and the Reunion Committee have written two Bulletins providing information for the 50th Class Reunion scheduled for October 3-6, 2019 at the Academy in New London. Please review the information and contact Bob with any questions or comments.
Note the following:
| | |
| --- | --- |
| | The Alumni Association considers eligibility for 50 Year Medallions as anyone who has attended the Academy at any time after the cadet swearing in ceremony held at the end of the first week of Swab Summer, and not just those who are graduates of the Academy. |
| | The Marriott Hotel Reservation website for our Class Reunion weekend has been tested and is up and accepting reservations. |
The Class e-mail list that I maintain to keep Classmates updated on class activities includes those who graduated in June 1969; members and non-members of the Alumni Association; spouses of deceased classmates; reverters who either joined or left the Class; and those who left the Class before graduation.
From the viewpoint of Classmates who graduated in '69, it is important to stay connected to all who spent time in the Class during our four year adventure in New London. I have received feedback from non-graduating Classmates (and others) that "I'm not sure if we should attend the reunion or even if we would be welcomed there." If you were sworn in as a cadet with the Class on that first Friday in July 1965, or anytime after, you are a member of the Class of '69, and you are encouraged to reconnect with the Class. All are welcomed!
Please reach out to those former Classmates who you may be in contact with and invite them to the 50th, and ask their permission to be included on the Class e-mail list and the Class website that Chris Kreiler maintains on-line. How great it would be to have those who "danced" with us through Swab Summer return to CGA for the 50th and once again become part of the Class of 1969!
Bob Gravino
Bulletin #3 – USCGA 1969 Golden Tide Rips Revision 1
Please note Wayne's note on the new submission deadline of NLT May 15, 2019. This is a hard submission date, and submittals past that date will not be included in the Reunion Golden Tide Rips. Questions, please contact Wayne.
Bulletin #4 – USCGA 1969 Photos for a Video about our four years at the Academy Attached is Reunion Bulletin #4 from Bob Pokress, asking that classmates and spouses gather photos for a video about our four years at the Academy. Open the attachment to get the details. Any questions or comments, contact Bob Pokress.
Bulletin #5 from Bob Thorne, announcing the opportunity for two (2) Class of 1969 Graduates to sail on one leg of Eagle's 2019 summer cruise schedule
Please note the short turn-around time to return the lottery form to Paul Bodenhofer. The form has to be received by Paul No Later Than Tuesday, February 26, 2019.
Bulletin #6 – USCGA 1969 Contributions for Reunion Upgrades
Bulletin #7 – USCGA 1969 Memorial Service Information requested on missing classmates and wives
50th Reunion Schwag Bulletin - Bob Thorne has approved sending the attached Reunion bulletin regarding 50th reunion apparel items. It has all the info about the various 50th Reunion items that are available, and the web link in the letter will take you to an on-line folder that has the order form and photos of the five items we've had designed for our 50th. Everyone signing up for the class reunion weekend events will receive a Class of 1969 50th Reunion ball cap without having to buy anything extra.
Bulletin #8 – Marriott Hotel Room Update If you cannot reserve a room at the Marriot, click here for a list of local hotels in the area that offer military discounts.